The Uganda Registration Services Bureau (URSB) collected a total of Ugx UGX 77.14 Billion in non-tax revenue for the period July 2022 to June 2023, against a target of UGX 69.6 Billion, representing a surplus of UGX 7.54 Billion. This outstanding achievement was revealed by URSB's Registrar General Mercy K. Kainobwisho while presenting the annual performance report for FY 22/23 at the entity's Headquarters- the Uganda Business Facilitation Centre in Kololo on Wednesday.
In her remarks, the Registrar General said the Online Business Registration System (OBRS) which was developed in partnership with the Ministry of ICT and National Guidance greatly improved customer experience and efficiency in handling submissions while further reducing timelines of registration. "Our investments in innovative technologies have been focused on easing registration for our customers by ensuring that the process is quick and convenient". It is anticipated that increased provision of online services such as company incorporation, document certification, and company resolutions among others will translate into more regulations" She said.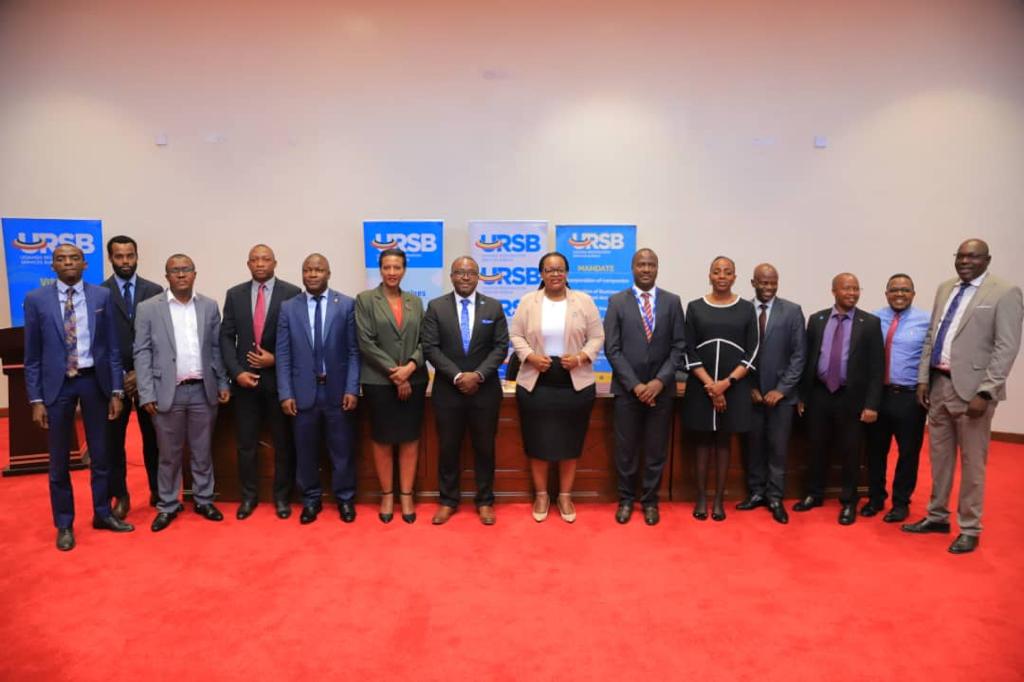 URSB Senior Management Team led by the Registrar General, Mercy K. Kainobwisho in a group photo.
Kainobwisho further attributed the growth in NTR collections to sustained public sensitization and communication with the general public on the benefits of formalization adding that URSB had established partnerships with key entities to enhance collaboration "We are also reaching out to strategic stakeholders in both the private and public sectors to leverage each other's strengths in achieving the formalization targets" Key areas of collaboration are information exchange and systems integrations. Our one-stop Business Facilitation center is now fully operational to tap into joint service delivery synergies".
In line with their formalization mandate, in the period July 2022 to June 2023, URSB registered 23,789 companies, 27,104 business names, 86,375 legal documents, and 1,483 debentures. The companies registered in 2022/23 increased by 28% compared to 2021/22, driven by the simplification of the registration processes resulting from automation that continues to ease client access to services.